News
Porsche 911 Rusty Old
by Transcy on Jun 03, 2020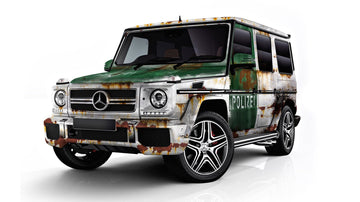 Your eye is trained subconsciously to associate things a certain way. For example, if you see a newer style Porsche, such as a 991 GT3 RS, you immediately recognize it as a new car. Your brain expects a flawless finish. Even if the car happens to have a scratch, some tire chunk marks on the paint, or may have scraped the K-wall at the track, the overall look of the car still carries that new car look. If said car has graphics, a livery or just racing stripes, the nearly complete image of this Porsche is that of shiny perfection.
Now, if you take this same Porsche and you wrap it in a livery designed to look like the car has been out for a decade of hard racing in combination with some really cool shapes and colors you are bound to be noticed.
You would think that a dirty, weathered look would just look ugly. You know, like some old Honda Civic or something. But no; the opposite is true. That's where the trained eye comment above comes into play. Car guys recognize a shape immediately. That sleek new body hidden under a grungy racing livery will look amazing, because it's so dramatically different from what you'd expect to see. Imagine it as instant patina on a brand new car that allows you to easily revert back to the brand new look whenever you would like.
When you combine nostalgic racing artwork with a distressed finish, the fun gets even better.
The key is to know how to properly design a distressed car wrap. You want it to look authentic. For this you need just the right type of grunge and the correct amount of it. The design must have different types of wear in just the right places. For example: You want cracking paint over some horizontal surfaces, long stain marks behind the wheel wells to simulate hot rubber being flung at the paint. Exaggerating common areas that get rock chips, with even more rock chips, such as the front of the rear fenders on Porsches can make for a dramatic look. The idea is that the car looks like it has years of racing heritage behind it rather than just some random scratches. All this weathered look must be done in such a way that it looks realistic.
This is something that our experienced designers do here at CWS Studios. We can take your brand new Porsche or super car and give it the veteran racer look. It's like a Gibson custom shop weathered Les Paul guitar. You really need to know what you're doing so that it looks realistic. The added dramatic effect of this style over a new car is one of the most fun aspects of grunge racing wraps.
 Now, here's the best part. You can achieve this look, with a certain level of personalized customization without having to pay a designer to do it! This sort of design can take hours upon hours of work and gets really expensive. Yes, we can do a fully custom design for you in this way for a reasonable price. However, with our predesigned offerings from our online shop, you can achieve this look with no design fee and still be different.